Macro Photography
Macro photography is basically a close-up photography of an object. There is no exact definition of this genre, but it falls from ratio of 1:1 magnification of the size of the subject related to size of the image, through up to 10:1 magnification.
An ordinary lens cannot go so close to an object for this magnification. Therefore, we will need a macro lens. Macro lens is specially designed lens to deal with the problems of close focusing. However, if we do not have a macro lens, then we can use an auxiliary lens in front of the camera lens for macro photography.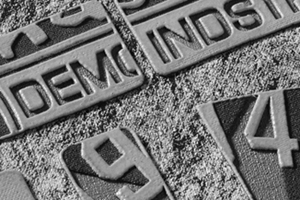 Close-up of fabric. Shot with a 12.9 MP digital camera on monorail camera body

Auxiliary lenses, used for macro photography have different powers. Depending on the requirement, we can choose either low or high power lens. We can combine more than one lens but if these lenses are not of a very good quality, we will not get a bitingly sharp image and good tonal contrast.
---
---
We can use distance rings for close-up shots. These rings are mainly a hollow tube without any optical interface. They are available in different lengths. We can use more than one ring for desired result.
Needless to say, we can use combination of distance ring and auxiliary lens for macro photography.
With a special adapter ring, we can reverse a normal lens (back of the lens in front) for extreme close-ups but we will have to operate the aperture manually. A digital camera will work only on manual mode. If the aperture of the lens of a digital camera is operated by electrical contacts, then we will not be able to set the aperture and thus, only narrowest or smallest aperture can be used. In such case, correct exposure has to be controlled by shutter speed, ISO settings and brightness of light.
Be very careful for focus as in macro photography, depth of field is very shallow. Use tripod to avoid any camera shake.
Lighting is tricky in macro photography. If the application is for record, then we need a shadow-less lighting. Close distance of the camera will interfere the lighting setup. So we can use a ring flash.
Ring flash is a flash light, which is to be fixed on the lens barrel. It gives virtually shadow-less light.
For magnification beyond 10:1, a microscope is required for macro photography. This will give extreme close-up image and fall into category of photo-micrography. We can mount the camera body (without lens) directly on a microscope's eyepiece with help of an adapter. Lighting is done with reflector mirror of the microscope. Depending upon lens used in the microscope, we can get magnifications up to tune of 100 X. These photographs are for scientific studies.
As the lens is removed, there is no aperture control for correct exposure. So we will have to adjust the brightness of light and set a shutter speed accordingly. We may also need to set ISO value.
Return back to Tips on photography from macro photography


Read more about various subjects of photography
Aerial photography: Some useful consideration in aerial photography.
Amateur photography: Photography at amateur level is done as hobby. Yet, the result can be at par with a professional shoot, read more about it.
Architectural photography: Get some interior and exterior architectural photography tips.
Baby photography: Photography tips of a small baby.
Bird photography: Some hints on how to shoot birds in natural environment. This could be in a jungle or a town.
Candid photography: This genre of photography is easy, right? Well, read about it.
Child photography: Considerations when doing photography of a child in indoors or outdoors.
Digital photography tips: Some useful digital photography tips.
Erotic photography: How to shoot an artistic erotic photograph which is not vulgar? Read about it.
Family portrait: Family portrait as a snap shot has no value. Proper approach can give a pictorial appeal. Get some tips on it.
Fashion photography: Interested in fashion photography? Get some very useful tips.
Fine art photography: Fine art photography has different value as compared to commercial or professional photography. Read more about it.
Fireworks photography: Fire work photography, which can be a part of night photography session. Read more about it.
Flash photography: Use of flash in photography.
Flower photography: Here are some tips on flower photography in nature and in studio.
Food photography: How to shoot dishes and food.
Food photography tips: Some more tips on camera angle in food photography.
Glamour photography: This is very lucrative genre of commercial photography. Read all about how to shoot a glamour photograph.
High angle photography: Photographs taken from higher camera position has its own importance and use. Read about it.
High key photography: Tips on high key photography lighting.
Industrial photography: This is one of the most difficult type of photography, where we have to take some care. Read about it.
Infrared photography: Infrared photography has its own use. It can be done with either IR film, or it can be done with digital camera. Read here for more information.
Landscape photography: One of the most interesting subject in photography.
Low angle photography: Photographs taken from lower camera position has its own impact. Read when to select this camera angle.
Low key photography: Lighting techniques in low key photography.
Model photography: Photography of models for their portfolio.
Nature photography: This is all about photography of endless subjects, mother nature provides us. It can be part of wild life and landscape photography.
Night photography: Want to click after dark? Well, we can. Here are some useful tips on this topic.
Nude photography: How to shoot artistic nude photographs, which are not objectionable? Yes, there are some rules to follow for this genre of photography. This is one of the extremely popular subject of arts.
Outdoor photography: Here are some tips on how to do outdoor photography.
Outdoor portraits: Shooting portraits in outdoor? Must read tips on this subject.
Pet photography: Pet is another popular subject, which demands to take out our camera from cupboard. Get some tips on it.
Photography in direct sun light: Direct sun light is generally not preferred in photography as it gives washed out high light and dense sharp shadows. Yet, we can artistically use this light for a shoot. Read about it.
Photojournalism: Photojournalism is a challenging assignment. Read about its tips and techniques.
Portrait photography: One of the most shot subject is a portrait of a person. It can be in a studio or outdoors. Here are some tips on studio lighting of a portrait.
Product photography: All products need to be shot for number of reasons. It can be for record purpose or for product advertisement. Read about how to shoot different products.
Publishing-house photography: This genre of photography is a good source of steady income for many professional photographers. Read more about it.
Royalty free stock photography: Photographs shot for sale on royalty free basis can give you residual income for years. Here are some tips on how and what to shoot for this niche.
Sports photography: When it comes to sports, photography falls in between event photography and wild life photography. Read about the considerations.
Still-life photography: As a serious hobby, we all must have tried still life photography. Get some tips on it.
Stock photography: Stock photography is yet another opportunity to earn some money from our creativity. Read about it.
Street photography: As a part of candid photography, street photography has its own approach, which is slightly different from candid.
Surreal photography: This is highly imaginative approach, when we plan to shoot any subject in this manner. Read about some useful tips.
Wedding photography: Wedding and function photography is main source of income for lots of photographers. Here are some tips on this subject.
Wildlife photography: One of the most interesting subject of photography, if one has passion. Read about how to take wild life pictures.
Macro photography
Have you got something to share?
Write about it
Get discovered - write your tips, solutions and suggestions on various topics of photography. Share your creativity with others.