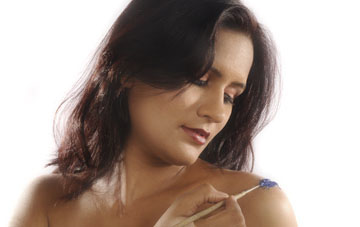 Modelling Portfolio
(Model: Priya Yadav)
Modelling portfolio is the first requirement, if you want to enter this field as a model. A portfolio shows your pictures to the client, who will hire you as a model. Portfolio photographs are shot by professional photographer with proper lights, make-up and dress. It has to show your 'model look'.
Normal cost of portfolio can be anything between 40,000/- to 150,000/- depending on the photographer and location. There are few photographers, who charge less but they can rarely submit a quality work. What you need is a quality work, as the portfolio is your ambassador, and you cannot compromise on it.
Our charges for portfolio are (INR) Rs 80,000/- which includes studio, make-up and hair stylist. Model has to bring their own clothes.
Shoot will extend for two days, with studio and outdoor sessions. You will get 15 to 20 photographs.
Modelling portfolio charges for child below five years are (INR) Rs. 40,000/-
My Digital Photography Club offer
There are hundreds of good faces, who cannot afford this amount for modelling portfolio. So either they never come up as a model or they go for cheap portfolio, which never works. Secondly, even if they spend 10,000/- on a portfolio, they may not get proper exposure in this field.
Considering this fact, My Digital Photography Club has worked out a system, which provides a platform to talented models. I am an approved contributor in three of the five largest websites in the world, who needs photographs of people on regular basis for sale.
We have a barter system with new and upcoming models, who can pose for my assignments and in return, he or she gets his portfolio for free.
Condition for this service:
You must be committed for this profession
Commitment and professionalism is the first thing, needed in any profession. A half-hearted approach will never work, so if you are really committed, then only apply.
You must have that x factor as a 'model look'
Even if you have an average looks, you can do modelling, provided you give good expressions and friendly smile. You must look comfortable in front of the camera. This is the only condition, and in which if you cannot perform, you will be rejected as a model. So practice for these expressions.
Body language is also equally important, as photograph uses language of body posture for this otherwise mute conversation. You must be able to communicate with your body language.
We will guide you for this but finally, practice will make you perfect. If you cannot act, you will be rejected.
You must have a professional approach
Professional approach starts right from punctuality and commitments. If you cannot keep your words, please stay away.
Costumes
We do not provide costume for assignment except some dresses, which needs for shoot. You have to bring formal, casual, party wear and other dresses. Female models need to have some shots in sari.
Make-up and hair style
You will have to pay make-up man and hair stylist's charges as these charges varies from a professional to professional. If you wish, you may get your own artist.
Period of release for our shoot
Period of release for our assignment is not applicable to our models and they are permitted to model for any assignment, even if it is competitive with our product or service. However, you will have to sign a model release form.
Shooting schedule
Shoot will last for three days, which include studio and outdoor shots. You will have to pose for at least 100 select-able photographs, which we can sell. Against this, you will get 10 photographs as your portfolio.
Commercial assignments
Our models will get first preference in any of our future assignments, for which they will get paid according to their market rates.
Once you make your modelling portfolio and if you wish, you can also carry on with our existing assignment, for which, you will be paid.
Must read
Modelling tips and some case-study: Some useful tips and case study of modelling career