Fireworks Photography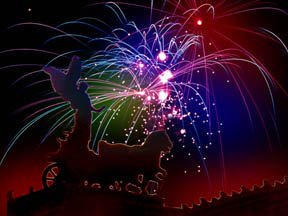 Fireworks photography can be a part of night photography. Firework represents a celebration in a spectacular way. Display of this fire artwork is so colorful and dramatic, that one would be eager to capture it in a digitized form.
Comparatively, it is very easy to shoot a firework. However, we have to be in right place at right time, as there is no second chance or retake. The subject is not going to follow our instructions and just like a sport event and wild life photography, we have to be always ready.
For fireworks photography, use a tripod or secure the camera for any movement. We will be using a slow shutter speed to capture the movement of firework. This slow shutter speed will also record the camera movement.
We have to consider the camera shake while clicking, even if the camera is mounted on a camera stand or tripod. It is almost impossible to press a shutter release button without a jerk, so use a cable release to operate the shutter release button or use a remote clicking device, as modern DSLR and other cameras are not have a connector to fix a cable release. Refer the camera manual guide for how to use a remote release device. Again, this device vary from camera to camera.
Another option is to use self timer of the camera. In this case, keep the timer at quickest setting, on which, the camera can be set. This will minimize the delay and we can capture the pick of action.
Shutter speed in fireworks photography is very long and we can also use 'B' - bulb exposure setting as when the camera is pointing towards the dark sky, it will not over expose the frame. However, in cities, the available light )from street lights and sign boards) in night is quite bright. So in such case, we may have to use some other shutter speed.
As shutter speed is not to be taken in to account unless for a bright urban ambiance, we have to play with aperture and ISO. Depending on the brightness of fireworks, we will require an aperture somewhere between f 8 to f 16 for 200 ISO. Now if we want to shoot at f 22, then change the ISO accordingly, to get proper exposure. However, considering "noise" problem of digital image sensor, it is always better to shoot at lower ISO.
---
---
Camera setting should be on manual mode. Auto mode will not be able to read out and calculate proper exposure timing and it will over expose the photograph. Be sure that the flash is off, as flash is never going to go that far and it will record the unwanted foreground details.
Normal or wide angle lens is more preferable as compared to a tele lens in fireworks photography. (we can go for a zoom lens). Always give some allowance and room to recompose the image with more negative space, and avoid tight framing. Include some elements, other than the firework alone, in the photograph, like people, buildings, landmarks or urban skyline.
Apart from just going for a spectacular firework show, children bursting crackers are also an interesting subject. It can be either of our family or as an artistic approach, we can experiment with expressions and silhouettes. In both case, use of a flash light is a disaster.
Read more about various subjects of photography
Photography in direct sun light
Royalty free stock photography
Return back to Home Page from Fireworks photography

Return back to Tips on photography