High Key Photography
High key photography is bright and light colored photographs. It conveys the emotion of happiness.
In general, most of normal pictures contain average tonality, which falls from 0% black to 100% black on a scale. When we consider lightest part of an image as 0% black (which is white) and darkest part as 100% black. However, in case of high key photos, this average tonality is shifted towards brighter side of the scale. So the result is less black, lighter mid tone with light and bright colors and low contrast.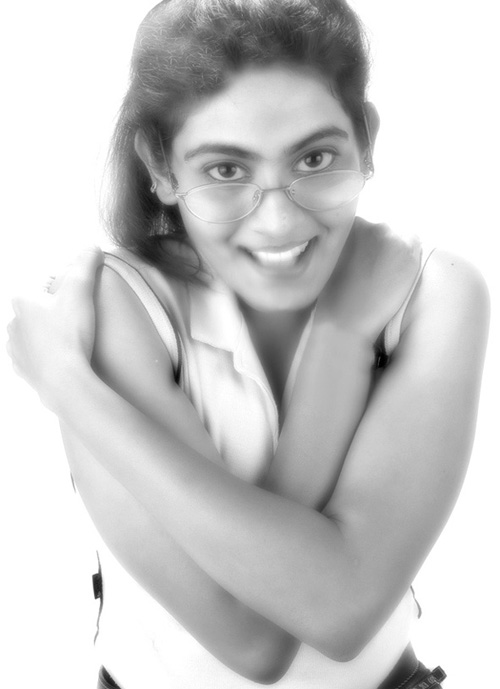 This result has a unique mood. It shows a joyful atmosphere and liveliness. Back ground is mostly white and other colors are light and soft. In terms of black and white photography, we can say it is a white subject shot on a white background.
---
---
In order to create a high key photo, shoot in a small room with white walls. Select white back drop. Subject also should be light in color. Main light source should be frontal. It should be large and soft and should wrap the subject with light, so that there is no shadow but just shading. Illusion of depth in the image is formed by delicate shades of mid grey.
Place soft secondary lights to fill in the shadow which should be within one f stop less powerful than the main light, or use big silver reflectors to fill in shadows.
Back drop should be lit with separate brighter light. Compered to the main light, it should be at least 1 1/2 f stop more powerful so that the white is recorded as pure white.
Take all incident light readings with exposure meter or if you are using camera light meter, consider the limitation of the meter as it is reading the reflected light and will give incorrect reading as under exposure, (read more about exposure). So over expose the setting by 1 to 2 f stops to compensate the limitation of camera meter.
To create a true high key image, you must have some small part of the image which should be very dark or black in color. This will indicate that the result is not just over exposure, but it has been properly exposed.
High key photography is opposite of low key where the image is dark and black.
Read more about various subjects of photography
Photography in direct sun light
Royalty free stock photography
Go to low key photography from high key photography

Return back to Home Page