Home Photography Studio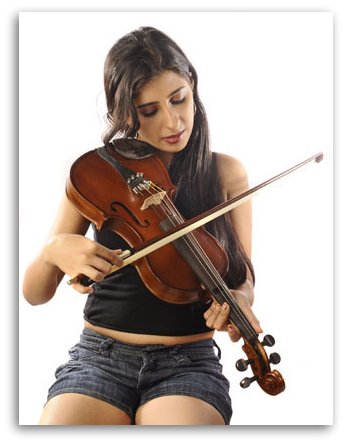 Model: Aashna Soni
Home photography studio can be set in a small room with bare minimum equipments and lights. This set up is good enough to shoot small products, food and portraits.
This is a better idea for those who want to enter in photography business as a professional, without much financial risk. We may want to try out how we are going to stand in the market. Without spending much on expensive equipment and a large studio over heads, we may want to test our position. This small home studio will give us a chance to establish our self and then slowly we can venture in a larger set up.
---
---
A room of a size 10' x 14' is enough, which can be our spare room or a garage and can be converted in a home photography studio. We have to make this room light proof so that no day light enters the room. Paint all walls and ceiling in pure white color.
We need to have some kind of support or holder to hang or fix a pipe, (on wall) which should be 7' in length. This pipe can take 5' wide rolls of back ground paper sheet, which is good enough for a portrait photography.
A set of studio flash is preferred but it is expensive. In such case, we can use 500 W halogen lights, which are used for video shooting. These lights are powerful enough to give fast shutter speed for portrait photography. Stands are available for these lights, which has a provision for fixing a photography umbrella.
For shooting products, there is absolutely no issue. Only thing we will need is a good tripod. Then we can use slow shutter speeds, as we have to use a small aperture to get maximum depth of field. We have to set the white balance of the camera for halogen light. Most of modern digital cameras also have a fine tuning feature for correcting any particular hue or a color cast in a photograph. Set the camera accordingly.
We will need a 5' x 3' work table, which can be of about two feet height. If we go for more height, then we will have to take the camera at more height, when taking photographs at forty five or sixty degree angle.
White acrylic sheets of different size (4' x 6', 3' x 5', 3' x 4') can be used in front of the halogen light, which will make the light soft and defused. Apart from this, we will need some tracing papers and reflectors.
This set up is enough to shoot small products and food items, which can give results of a professional quality. When we have to shoot a model, then we will need a mirror for the make up of a model. Any bathroom mirror will work but for make up, a mirror with light bulbs on its frame is more preferable.
This is how we can have a workable home photography studio, which has no expensive equipment and over heads.
Read more about various subjects of photography
Photography in direct sun light
Royalty free stock photography
---
Return back to Home Page from Home Photography Studio

Return back to Tips on photography