How to shoot Jewelry
Here are some useful tips on how to shoot jewelry and what care you must take.
Jewelry is a small insipid product for photography. It has a beauty, which is crafted in a miniature scale. As costly metal and diamonds are used in making jewelry, it is considered as a highly finished fashion product. However, unless it is a machine made product, it does not have that perfect finishing. It is the cost factor, which influence our emotion and we respect it as a high value product.
When we shoot this metallic product, every small defect and scratches are recorded. More we enlarge the image, more the defect will appear. So be prepared to do extensive work on retouching. Simple soft and directional light will minimize retouching, so we can use this type of light or make a small tent, so that a clean high lights without any distortion is created. We can make a small light box with some simple plumbing pipes and connectors for this photo shoot, which also can be used for photography of other small products, and can be easily dismantled after use. Click here to read about it.
---
---
As these products are for high end market and rich people, most of jewelry photography is done for showing the product larger than life. Models are employed to show the product in actual use, but in fact, this technique is employed for inducing emotional value and branding. As the product is small in size, only body parts, where the product is used, are showed.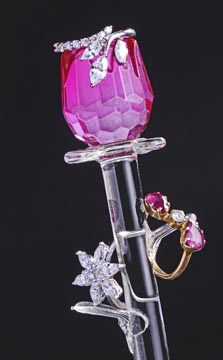 When selecting a model for jewelry photography, go for a symmetrical face with well shaped jaw line. As neck and upper chest is visible for necklace shots, so be watchful for abruptly projecting out collar bones. In fact, a model with no visible collar bone is preferable. However, this means that the model is slightly over weight.
When it comes to printing, golden color is very difficult to reproduce by applying CMYK color profile and printing method, most color offset printers use. Illusion of golden color is produced in a convincing way by carefully mixing various shades of yellow, brown, white and black, where yellow is playing a major role for gold.
We require an SLR camera with macro lens or close up rings for jewelry shoot. However, a view camera with tilt and shift lens board is more advisable to use, as it can produce more depth of field for given aperture setting. Choice of background color is subjective, and we can also use wood plank, stone, glass or cloth as a back drop.
Commercial shoot of jewelry should be done at client's place to minimize the risk factor of transporting very expensive products or get your self insured for any calamity.
Apply these techniques of how to shoot jewelry for costume jewelry and other small fashion accessories.
Read about this product photography in detail:
How to shoot cars and automobiles in a studio: Some useful tips on how to photograph a car in a studio
How to shoot cars and automobiles on an outdoor location: Some useful tips on how to photograph a car on an outdoor location
How to shoot engineering products: Some useful consideration on how to photograph an engineering product
How to shoot fashion accessories: Some tips and suggestion on how to photograph fashion accessories
How to shoot lingerie: Some tips on how to photograph lingerie and undergarments
Return back to home page

Return back to product photography from how to shoot jewelry

---
How to shoot jewelry
---