How to Shoot Cars and Automobiles in a studio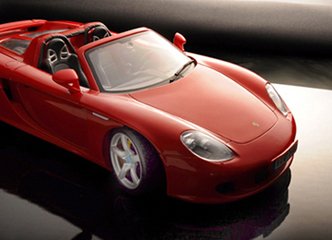 Car needs a large studio for photography. Here are some tips on how to shoot cars and other automobiles in studio.
As the surface of the product is highly polished, it will reflect every thing, which is in the studio. Therefore, we will require large reflectors and soft boxes to cover up reflections. Reflection of a reflector will be visible in the polished surface as a softer color. This reflection will follow the form and contour of the shape of the car and enhance the form by showing its distorted shape. Soft box will provide illumination on the product and it will be visible in the product as a spectacular high light.
---
---
This high light and other visible reflections must blend in the form of the shape of the car in a convincing manner, without any abrupt end. Therefore, we may have to construct and place the light and reflectors as per requirement. Each placement of reflector is subject to play its role for only one camera angle. So we must check the preview from the camera and adjust the reflector as per need.
A white and light colored car has less problem with reflections. Black and dark colored cars will show every small reflections.
Be very sure for each part of the product, which should be absolutely clean. This also includes tires and wheel drum. If there is a demand to show a lit head light or indicators, then shoot two separate frames, one without light on and one with lights on. Then these two images can be super imposed and mix while post production retouching.


Along with the entire product, we also have to isolate some fine details and interior of the car. Fine details can be of monogram, radiator grill, hood ornament and so on. Interior of a car may show details of steering wheel, dash board, instrument panel and seat. When it comes to interior, we may have to cut open the product or remove seats, to capture the desired camera angle and set lights.
These are some tips on how to shoot cars in a studio. Shooting a car or a bike on outdoor location is much easier. Read about tips on how to shoot a vehicle on location.
Read about this product photography in detail:
How to shoot engineering products: Some useful consideration on how to photograph an engineering product
How to shoot fashion accessories: Some tips and suggestion on how to photograph fashion accessories
How to shoot jewelry: Some tips on how to photograph jewelry
Return back to product photography from how to shoot cars

Return back to Home Page